WHAT'S NEW IN ADONIS NP 8.0
The latest version of our BPM suite – the cutting-edge ADONIS NP 8.0 – is out now! Scroll down and discover all outstanding innovations
coming with ADONIS NP 8.0. Enjoy!
UX & UI IMPROVEMENTS
Revolutionizing the BPM Experience
Throughout the years, we've always aimed at providing nothing but the best for our ADONIS users. With each version upgrade,
we've transformed and elevated the ADONIS experience further, ultimately helping our users get the job done faster, better and easier.
And with this latest release of our BPM suite ADONIS NP 8.0, we have truly outdone ourselves on that mission!
With a novel design and outstanding usability improvements, this release of ADONIS NP embodies all three of our core guiding principles – clarity, consistency and efficiency. Focusing specially on the ease-of-use and user experience as a whole, ADONIS NP 8.0 brings an incredible mix of new features and functionality that will make your work incomparably easier and more efficient,
while giving the UI a facelift at the same time.
So, take a few minutes to discover all the features that contribute to ADONIS NP's unparalleled BPM experience. Enjoy!
NEW DESIGN & DOCUMENT INTERFACE
The Power of Less
Beginnings are never easy, but we consider it our responsibility to make them as simple as they get. To facilitate your interaction with ADONIS NP and help you execute your daily tasks quickly and efficiently, we've revamped the Design & Document start page to offer a cleaner and more simplified experience.
Guided by the 'less is more' principle, the new well-thought-out layout provides intuitive navigation and easy access to core functionalities of the Design & Document scenario. With quicklinks to key features and most important modelling use cases, creating Business Process Diagrams, managing models, searching for content, and importing or exporting data has never been easier, but more importantly, it's just a click away!
With laser focus on functionality and user-friendliness, the new Design & Document start page helps you better understand and easily get to the functionality you need, when you need it, ultimately making ADONIS NP more intuitive to handle for all users, from rookies to pros!
Easily navigate and use the
Design & Document scenario
Quickly get to the features
you need
Benefit from a cleaner
layout and more intuitive interface
QUICK ACCESS TO RECENT MODELS & FAVOURITES
All Content You Need, Right At Your Fingertips
It's often the case that our users work with and navigate through numerous different models throughout the day. Whether it's creating new ones, updating existing ones, or simply opening specific models, the emerging issue remains the same – it gets harder to find and quickly access the models you need, as it requires you to drill into multiple sections of your repository. Sound familiar?
With the latest release of our BPM suite, this issue becomes a thing of the past! ADONIS NP 8.0 comes with a brand new quick access feature that helps address this challenge head-on. Situated in the global toolbar on top, the quick access section allows one-click access to all your recently opened models, as well as your model and object favourites! The more you use ADONIS NP, the more this feature will become relevant and important to you, thereby saving you time, and speeding up the everyday task of finding and getting back to the models you need most.
Save time on finding
your recent work
Quickly access models
you need the most
Easily navigate your model
and object catalogues
DRAG & DROP RELATIONS
Relations Made Easy

We've always paid special attention to the features that simplify and facilitate the art of process modelling and knowledge creation in ADONIS NP. Since defining relations between processes and BPM assets (such as roles, documents, applications etc.) is an essential part of creating value-adding information and knowledge in the organization, we've focused this release specially on extending the drag & drop use cases even further, offering incomparable ease-of-use and efficiency.
With ADONIS NP 8.0 creating relations using the drag & drop functionality is easier and faster than ever before! Just drop a model or an object directly onto an element in the graphical editor, and ADONIS NP will guide you through and show you all possible model references to choose from.
Similarly, you can also drag & drop objects anywhere in the object properties, and create relations in the same manner. That way, you don't need to worry or spend time thinking about the different possibilities, just drop an object wherever you like, and ADONIS NP's smart technology does the rest for you!
Seamlessly build relations
between your BPM assets
Save time with the easy drag & drop
feature for creating relations
Benefit from greater
simplicity and ease-of-use
DRAG & DROP IMAGES AND DOCUMENTS
Quick as a Wink
In today's fast-paced world, time has become a priceless commodity. Every minute saved is a minute you can dedicate towards something that truly matters. So, to further improve the usability of the tool, but more importantly save you some clicks, we have reworked the process of uploading and displaying images and documents in ADONIS NP, and made it much faster and easier!
Instead of adding a new note object, opening the object properties, attaching a file, and then displaying the image in the graphical editor, you can now simply drag & drop any image directly into the drawing area. A new note object will automatically get created and your image directly displayed, ready for you to adjust or use right away.
In similar fashion, you can simply drag any file from your computer and drop it into the object explorer, and ADONIS NP will create a document object, including the referenced document in a matter of seconds! Quick, easy, intuitive – and above all else – a real time-saver!
Save time on uploading images
and documents to ADONIS NP
Easily display images and documents
in a matter of seconds
Benefit from the extended
drag & drop functionality
Easily access the features
you really need
Focus only on the most
important things
Benefit from the clean and
compact overview
OBJECT TYPE CHANGES
Faster Than the Blink of an Eye
To help you save time and be more efficient with certain tasks, we've introduced a new, better and faster way of setting object attributes directly in the graphical editor. Instead of going through the object properties to make changes to your object's type (e.g. task type, event type, etc.), you now have the possibility of doing this directly through the modelling assistant.
This new feature has been seamlessly integrated into SmartHover, so that you can easily model processes and access type conversions where and when you need them along the way. Alternatively, simply click on the element you'd like to make changes to, and SmartHover will help you get the job done with a single click! It doesn't get any simpler than that!
Easily set object types
with SmartHover in no time
Quickly make adjustments
and edits as you go
Benefit from quick and easy
access to type changes
ADDITIONAL FEATURE HIGHLIGHTS
Browse through our other favourites from this release and check out how the additional feature highlights
play their part in contributing to what ADONIS NP is today.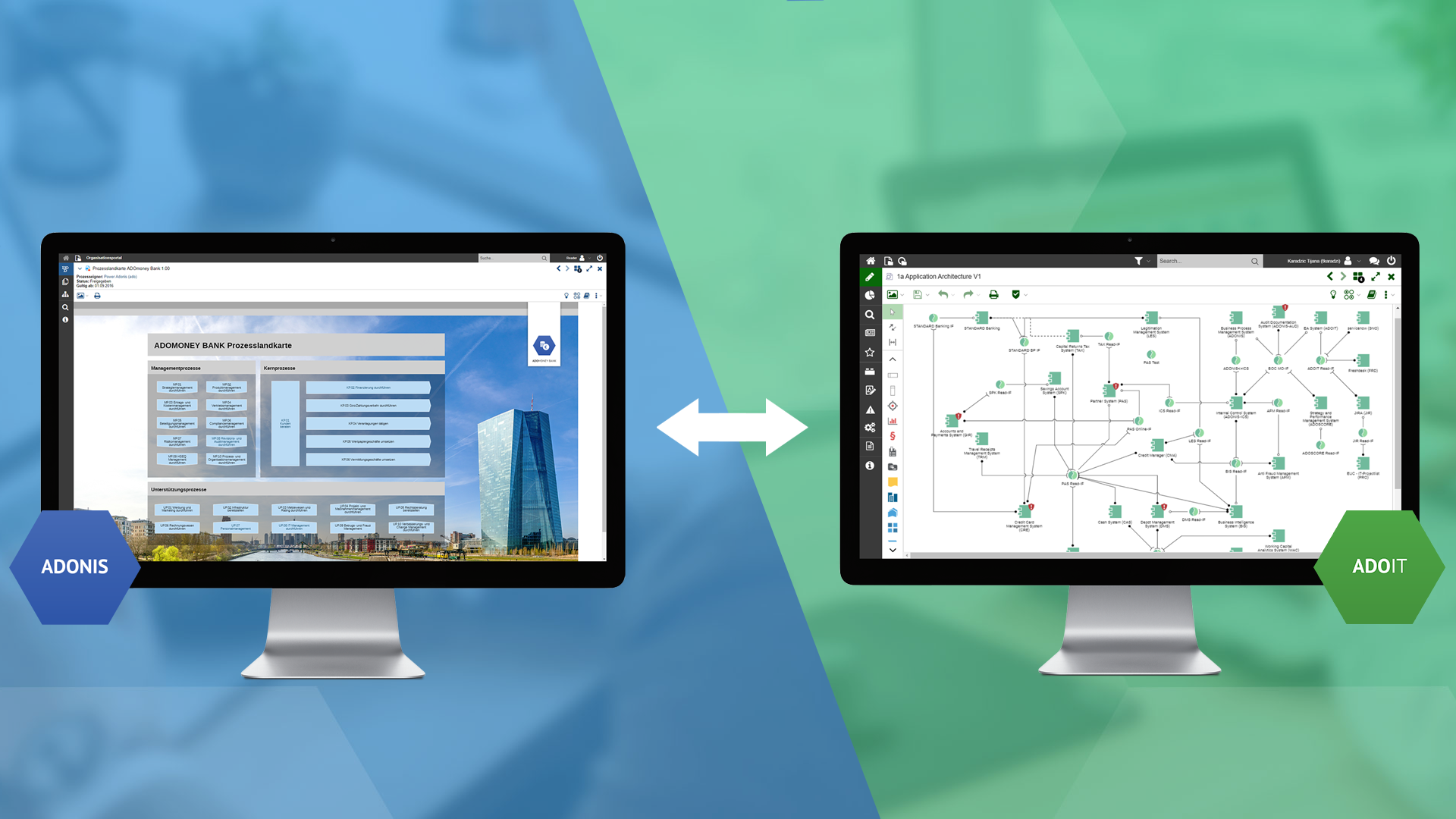 MANAGEMENT OFFICE INTEGRATION
Two Worlds United
To stay competitive in today's global environment, companies are required to work smarter and improve the coordination between planning and execution, to be able to continuously optimize processes, refine digital twins and run business as efficiently and effectively as possible. While BPM and EA each bring incredible value on their own, when done together, they become an unbeatable team for strategic alignment of business and IT, and sustainable business optimization.
And this is where our Management Office Integration (MOI) steps into the game – to help you seamlessly integrate ADONIS NP with our EA suite ADOIT. With this release, we're introducing new improvements to this functionality that make MOI even more flexible and powerful than before!
Users will be able to benefit from quicker navigation thanks to the automatically generated deep links, new configuration possibilities allowing for easier and more targeted data synchronization, as well as support for multi-tenant configuration enabling completely new use cases for harmonization of BPM and EA assets.
Thanks to the latest MOI, your digital twin gets even more robust, the exchange between the tools faster, better and smoother, ultimately empowering collaboration between business and IT on a whole other level!
Easily integrate ADONIS NP with ADOIT through management office integration

Blur the boundaries between BPM and EA

Take the collaboration between business and IT to another level
… OTHER FEATURES WORTH MENTIONING
Check out our selection of other nice features contributing to ease-of-use and improved performance.
To offer a better and more intuitive experience, the behaviour of the mouse zoom pointer in the graphical editor has been changed to the centre of the zoom action. This way you can more precisely focus on the things you would like to show while zooming in with your mouse.
Improved Navigation through Open Models
For easier navigation through recently opened models, views, search results etc., we've improved the behaviour of our back and forward buttons, to ensure that you can easily find your way around your work.
Favourites Button
To help you save models or objects you keep going back to, you can now easily add them to your favourites by clicking the star button at the top of object or model properties, or in the header of the model itself.
Share Button
Sharing models and objects has never been easier! With the new share button, in the object / model properties and editor toolbars, sharing models, objects and views with your collegagues is just one click away!
Logout Button
To prevent you from accidentally logging yourself out, we've moved the logout button to the bottom of the user menu, for more intuitive handling.
This latest release brings significant improvements to ADONIS NP's integration capabilities. Thanks to the new integration framework, ADONIS NP 8.0 can be even more easily integrated with any kind of third-party system that provides an HTTP interface for fetching data.
"My Processes" widget, in the Read & Explore start page, now offers the possibility to integrate with workflow engines for process automation. This feature allows you to easily run processes with a workflow engine, as well as view all currently running instances of a process.
For greater usability, the search functionality has been extended with the possibility to search and filter for note and aggregation objects in a specific colour.