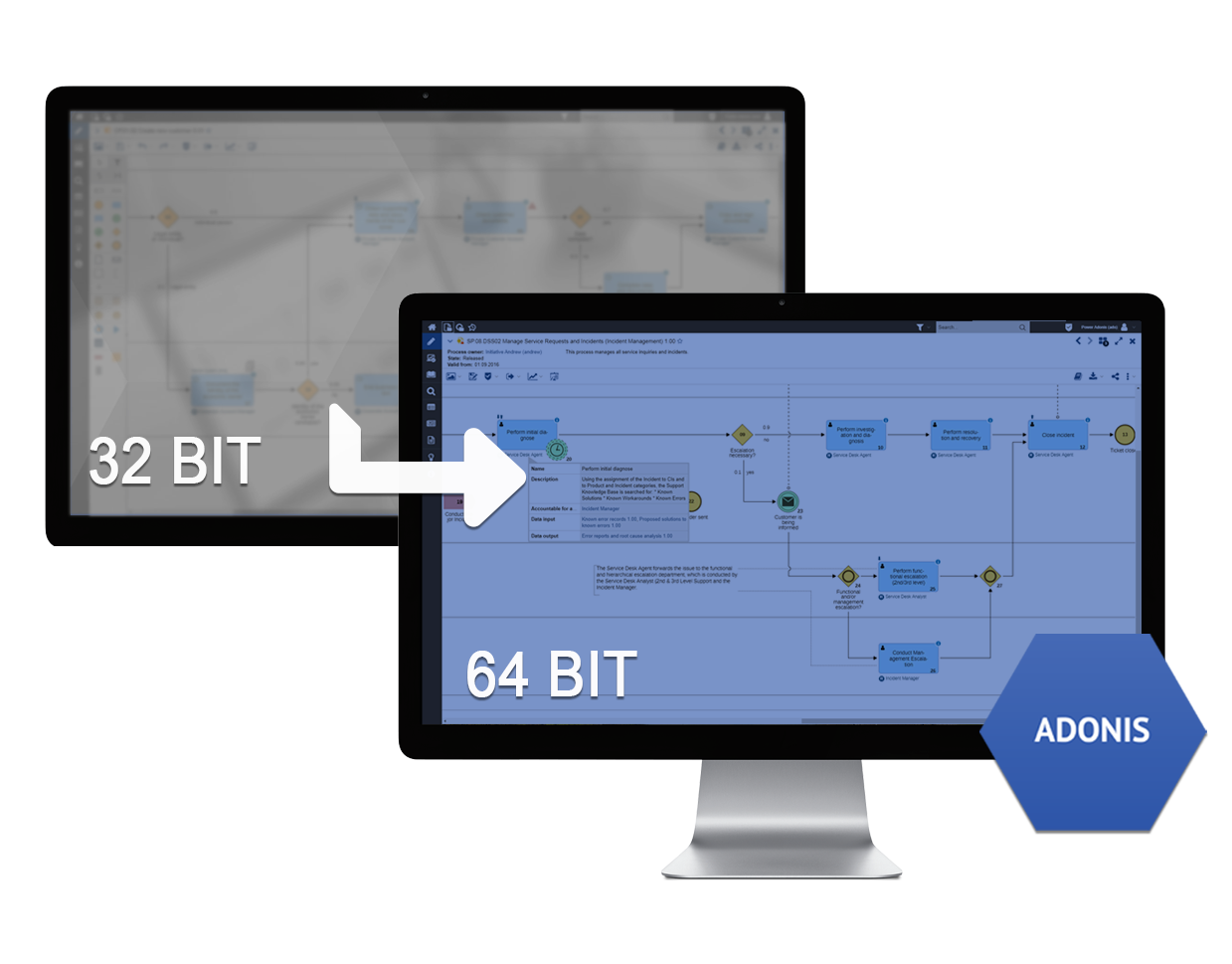 64-Bit Support
Preparing today. For a better tomorrow.
ADONIS NP 9.0 comes on a re-designed platform, supporting 64-bit architecture, thus speeding up your daily process work. With this future-proof foundation in place, ADONIS is beyond equipped to accompany your organization's transformation and process journeys with ease. Benefit from even more speed, better performance and a substantially larger memory capacity.
"My Departments" View
All your department's activities. All in one place.
Easily keep up with the recent work and latest changes in your departments. Whether your roles are not yet defined, or you simply prefer the higher-level department view – the possibility to explore the Read & Explore dashboard through a departmental lens will help you focus your efforts and stay on top of things at all times!
New Insights Dashboards
Your roles and organizational units at a glance.
Visualize process information efficiently and observe it from different angles. Focus on different key aspects of your roles and departments, and bring that valuable knowledge to light. Ranging from which department a role belongs to, to which processes or initiatives a department is involved in, the new Insights Dashboards help you see all essential information in one go – especially valuable for team leads and department heads!
Process Cross-Impact Analysis
Don't just assume. Know the impact of process changes.
Although individual processes often serve distinct purposes or are handled by different departments, that doesn't mean they operate in silos. Assess and visualize the impact of process changes on your entire process landscape. See your process' dependencies, and how it's affected by other process changes at a glance. Manage process complexity. Plan in advance. And respond adequately at all times.
Enhanced Process Simulation
Make better (informed) decisions. Even faster.
We've added a "gimmick" or two to our Process Simulation component, making your everyday use of this feature even smoother and better than before. With advancements in capacity, "what-if", and end path analyses, crunching numbers and translating your process data into business value has never been easier!
Usability Improvements
Ease of use. Made easier.
Sometimes, it's the little things that truly make a difference in the way we work. ADONIS' usability has been further fine-tuned in different places – from modelling toolbar to excel data imports – to make process design and analysis even easier and more flexible than before. Leverage the smart updates in the features you use regularly. And take your work to the next level.
Streamlined MOI
Align business & IT like a pro.
The Management Office Integration (MOI) already allows for a seamless interaction between ADONIS and ADOIT. And with the latest extensions, it'll be even faster and easier. Exchange data between the tools, keep your business and IT worlds in harmony and your ADONIS and ADOIT in-sync like never before!